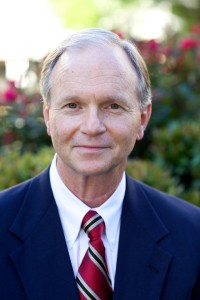 Undergraduate Education:  University of Alabama
Medical Education:  University of Alabama School of Medicine (UAB)
Residency: Walter Reed Army Medical Ctr., Washington DC
Military Service: Major, Army Medical Corps, Army Commendation Medal
Board Certified:  American Board of Obstetrics and Gynecology; Fellow, American Congress of Obstetricians and Gynecologists; North American Menopause Society Certified Menopause Practitioner
Dr. Jimmy Sparks, a Birmingham native, returned to his hometown, after fulfilling his military commitment, to join UAB's Obstetrics and Gynecology faculty. While at UAB, Dr. Sparks' research interest and publications centered on women's preventive healthcare. In 1991 Dr. Sparks left academic medicine to pursue his commitment to women's health care in a private-practice setting.
He brings over thirty years experience to caring for his patients' reproductive health needs and their overall wellness.  His long-time interests include minimally-invasive gynecologic surgery, screening and risk-reducing strategies for women's cancer risk, the menopause transition, and osteoporosis. In 2009, Dr. Sparks was one of the early Birmingham gynecologists to begin using the minimally-invasive procedure known as "robotic surgery."  He reminds women that it is now a rare situation that will require a traditional abdominal hysterectomy.
Dr. Sparks is again accepting obstetric patients in order to assist with the transition of Dr. Brown's patients. He is pleased to return to caring for expectant families, relying on his many years experience delivering babies to help them achieve the healthiest possible outcome for mother and baby.
Dr. Sparks has been recognized by his colleagues as one of Alabama's Best Doctors in America® continuously since 2002. After many years of service, he is currently a Life Counselor with the Medical Association of the State of Alabama. He has served as Secretary/Treasurer, Vice-Chair, and Chair of the Alabama Section, American Congress of Obstetricians and Gynecologists. In 2013, the Congress presented him with its Outstanding District Service Award.
Dr. Sparks and his wife have three grown children.
Read Dr. Sparks most recent blog posts:
Should Our Pregnant and Breastfeeding Patients Receive a COVID-19 Vaccine?
Considering a Hysterectomy? Is it…  Urgent? Medically Necessary but not Urgent? One of Several Options? Unnecessary?