Features
The da Vinci ® Surgical System is the only commercially available technology that can provide the surgeon with the precision, dexterity and control of traditional open surgery, while only requiring 1-2 cm incisions.
da Vinci Surgical System consists of an ergonomically designed surgeon's console, a patient cart with four interactive robotic arms, a high-performance vision System and patented EndoWrist instruments.
At the da Vinci console, your surgeon operates while seated comfortably, viewing a highly magnified 3D image of the body's interior. To operate, the surgeon uses master controls that work like forceps.
As your surgeon manipulates the controls, da Vinci responds to your surgeon's input in real time, translating his or her hand, wrist and finger movements into precise movements of miniaturized instruments at the patient-side cart.
da Vinci's patient cart holds up to three EndoWrist instruments and one 3D camera. To access the target anatomy, your surgeon introduces the precisely controlled EndoWrist instruments into the body through a series of dime-sized incisions. A broad range of instrument types are available to help your surgeon perform specialized surgical tasks with precision and control.
Safety
When considering surgical treatment options, many patients have concerns about safety. In particular, patients question whether da Vinci Surgery is as safe as traditional methods.
In fact, the da Vinci Surgical System has been used successfully in tens of thousands of minimally invasive procedures worldwide. In addition, da Vinci offers multiple, redundant safety features, which make the most effective, least invasive approach potentially as safe as traditional surgical methods.
First and foremost, the da Vinci System cannot be programmed, nor can it make decisions on its own. Instead, the da Vinci System requires that every surgical maneuver be performed with direct input from your surgeon.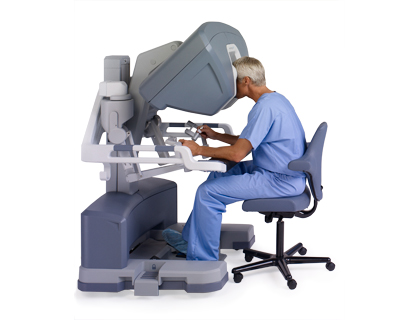 The da Vinci System surgeon console
With da Vinci Surgery, as with traditional methods, you are under the care of at least two medical professionals: Your surgeon as well as his or her supporting team. Your surgeon requires at least one assistant at your side during surgery. This team-member assists with tasks, such as switching between instruments, to provide your surgeon with the optimal da Vinci instrument for the procedure step being performed.
Just a few feet away, your surgeon operates using the console controls. As your surgeon maneuvers the controls, da Vinci scales, filters and translates his or her wrist and finger movements into precise movements of miniaturized instruments at the patient-side cart. Tremor reduction minimizes unintended movements, which means that da Vinci instruments can move in a more precise manner than a human hand.
And because the da Vinci Patient Cart does the work of holding and repositioning the instruments and camera – and because your surgeon operates while seated – surgeons can experience much less fatigue in performing surgery with the da Vinci System.
Finally, during the course of an operation, the da Vinci System will perform millions of safety self-checks. The System is designed to be fail-safe, which means that in the event of power interruption or a safety-check failure, the System is designed to shut down safely, allowing the surgeon to remain in control of the procedure.
---
While clinical studies support the effectiveness of the da Vinci Surgical System when used in minimally invasive surgery, individual results may vary. There are no guarantees of outcome. All surgeries involve the risk of major complications. Before you decide on surgery, discuss treatment options with your doctor. Understanding the risks of each treatment can help you make the best decision for your individual situation. Surgery with the da Vinci Surgical System may not be appropriate for every individual; it may not be applicable to your condition. Always ask your doctor about all treatment options, as well as their risks and benefits. Only your doctor can determine whether da Vinci Surgery is appropriate for your situation. The clinical information and opinions, including any inaccuracies expressed in this material by patients or doctor about da Vinci Surgery are not necessarily those of Intuitive Surgical, Inc. and should not be considered as substitute for medical advice provided by your doctor. All people depicted unless otherwise noted are models. © 2012 Intuitive Surgical. All rights reserved. Intuitive, Intuitive Surgical, da Vinci, da Vinci S, da Vinci Si, Single-Site, InSite, TilePro and EndoWrist are trademarks or registered trademarks of Intuitive Surgical. All other product names are trademarks or registered trademarks of their respective holders.
*Compared to open surgery