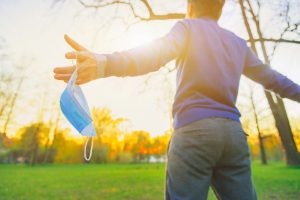 As Alabama's statewide mask requirement has now expired (5 PM, April 9th), we would like to inform our patients about how that will affect your care at Sparks & Favor.
First, we want you to know that we are extremely confident in the vaccines. Their ability to protect people from serious illness and hospitalization has been spectacular. Breakthrough cases are extremely rare. Of the scant number of infections after vaccination, most people have had very mild symptoms or none at all. Your shot is a ticket back to your normal life.
If you have not yet been vaccinated, ALL PERSONS OVER 16 YEARS OLD CAN NOW SCHEDULE A SHOT. And shots have become very available. At this writing, we randomly checked local CVS stores and found shots available in Hoover, Pinson, Birmingham, Inverness, and Homewood. Check the Health Department's Vaccine Dashboard to find other providers. arcg.is/0brSGj.
Beginning Monday, you will notice only a few differences in our office policies.
We ask that unvaccinated persons continue to wear a mask.
The physicians and staff will continue to mask when interacting with patients. Although we are confident that vaccinated people are not a risk to others, we want all of our patients to feel safe and at ease in the office.
Of course, we will continue to maintain high standards of cleanliness in the office.
Encourage family and friends to get their vaccine; extensive data shows it's safe and effective. Beyond seeing the light at the end of the tunnel, we are now walking out into the Alabama sunshine!
Best wishes for a wonderful spring with family and friends,
Drs. Sparks, Favor, Stradtman, Gregory, and Whitehead