Call for an Appointment with One of Our Physicians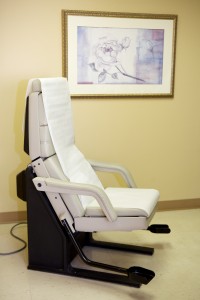 Whether you are visiting our office for your annual exam or your first appointment as a new obstetric patient, our physicians and staff strive to make your Ob-Gyn visit as convenient and pleasant as possible. Please help us by remembering to bring:
For your convenience, our office provides up-to-date 3D digital mammography. This will usually be scheduled at the time of your annual exam. If you need a bone density scan, we can order it to be performed at the Brookwood Women's Diagnostic Center on the first floor.
Our powered exam chairs offer greater comfort than the traditional Ob-Gyn exam table, especially for those with mobility challenges.
---
Making the Most of your Healthcare visit
Click on the button below for a brochure of helpful information to consider before an appointment with your Ob-Gyn physician.