Perhaps you have heard about a new medical technology commonly called robotic surgery.  Maybe you saw the strange machine with its mechanical arms on Good Morning America or elsewhere in the media. Did you wonder whether robotic surgery is really a surgical breakthrough or just the latest expensive gadget driving up healthcare cost? Let me say that in over three decades of providing surgery for gynecologic problems, I have not witnessed such an improvement in what we can offer our patients.
What is Robotic Surgery?
If you think of a robot as a machine that is pre-programmed to do something independently, this device is not actually a robot. The device we use to perform "minimally invasive robotic-assisted laparoscopic surgery" allows the surgeon to remotely control small, precise instruments passed through very small incisions. It helps us see and manipulate very accurately within the abdomen. The robot does not perform any independent tasks. Nowhere in the world is a robot performing surgery!
Why has Robotic Surgery made such an impact?
Let me describe some of the dramatic changes the daVinci® robotic system has produced. In 2000 the FDA first approved the robotic device for prostate surgery. In just a little over a decade, 80% of the 60,000 men each year who would have undergone an open prostatectomy are now able to have a minimally-invasive surgery.
Compare that to hysterectomy, a much more common procedure. Of almost 600,000 American women who have hysterectomies each year, only about a third were able to have a minimally-invasive surgery before the robot. Now nearly 90% of our patients at Sparks & Favor who undergo hysterectomy will have a minimally-invasive procedure.  These women will have very small incisions and brief hospital stays. They are likely to have less blood loss, post-operative pain, and fever, and a quicker recovery.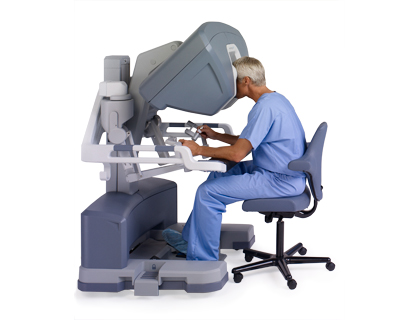 As one of the first gynecologic surgeons in Birmingham to begin using robotic surgery, I have truly enjoyed seeing my patients resting comfortably after surgery. Robotic hysterectomy is sometimes performed as same-day surgery, but my partners and I prefer for our patients to spend the night so that we can be sure they are comfortable and check on them in the morning. Most of my patients are back to their normal activities within two weeks.
I hope you now understand that we do not place our patients under the control of a Star-Wars-like mechanical creature. The surgical robot is just a very refined extension of our hands. We are always at your side, controlling your surgery. And we are very pleased with what robotic surgery allows us to offer our patients.