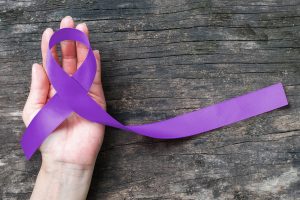 So purple—the awareness color this month—comes right behind October's pink ribbons for breast cancer. It's good timing. Did you know that sometimes breast and pancreatic cancer are related? About 5% of people who develop pancreatic cancer also have a hereditary risk for breast cancer (BRCA1 and BRCA2 gene abnormalities).
The pancreas is a small organ tucked deep within your upper abdomen behind your stomach. It produces enzymes—proteins that participate in digestion by breaking down food in the intestine. We have heard more about the disease recently as Jeopardy host Alex Trebek has shared his cancer fight and Supreme Court Justice Ruth Bader Ginsburg lost her cancer battle. Pancreatic cancer is a very serious disease. Like ovarian cancer, it presents few symptoms until the later stages. It is the 3rd leading cause of cancer-related death after lung and colorectal cancers. We have had little success finding these cancers early. But identifying people with a genetic risk factor for the disease has created new opportunities to increase survival chances. Doctors are able to offer people with hereditary risk special screening tests that are not recommended for the general public.
One of the most important parts of your yearly well-woman visit is the opportunity for us to update your family medical history. When you are reviewing your family history, remember to consider BOTH your mother's and father's side of the family—even for breast and gynecologic cancers. Risk is affected by how many relatives have had the disease and how old they were when it was discovered. Individuals with a 1st degree relative who has had pancreatic cancer qualify for genetic testing. First degree relatives include parents, children, brothers, and sisters. Risk increases if more family members have had this cancer. Also, a woman with a family history of other hereditary cancers may be at higher risk for pancreatic cancer. Some breast, ovarian, colon cancers, and melanomas (a type of skin cancer) can be hereditary.
Our most important tools to fight cancer are still healthy behaviors and regular screening exams (like Pap tests, colonoscopy, and mammograms). But genetic testing is becoming increasingly valuable in cancer detection and prevention. Your annual GYN appointment lets you and your doctor catch up on your individual risks and discuss up-to-date options for managing those risks.
Best wishes for the coming holiday season!
Judi Favor MD