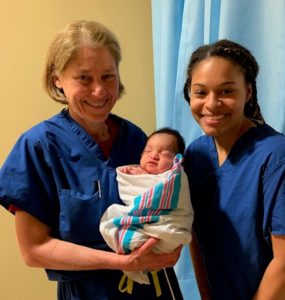 To be clear, this is Dr. Favor's story, but not in her words. She would not write her own story. Even so, those of us who have known her for thirty years (Dr Sparks, Dr. Stradtman and Mrs. Edmonds) thought her patients might enjoy reading a little bit about what inspires the dedicated care she provides. She relies on her faith, humility, and a strong sense of purpose to guide her work and everyday life.
Dr. Favor did not come from a family of physicians. Lowndes County, Alabama had only a part-time physician when she was growing up in the small town of Hayneville. But her childhood did not lack the most important things she needed to reach her goals, a close-knit family, a church family, dedicated mentors, and her own determination. When asked to tell her story, Dr. Favor gladly talks about these people. Besides her parents, she recalls Miss Jean, the retired science teacher who met with her one-on-one before school each morning, to teach her the chemistry she would need to begin a pre-medical college curriculum. She smiles when describing her tennis coach who rarely "noticed" that her 30-minute lesson had lasted an hour. He ended each session with total assurance that she would beat her next opponent. The self-confidence he inspired led her to both high school and college state tennis championships. She barely admits that she plays piano and organ, crediting a devoted teacher with "enabling a student of modest talent to play for her small church." She still enjoys both activities.
In the faculty at Judson College, Dr. Favor found the support she needed to complete a B.S. in chemistry in three years with a perfect grade-point average, while playing competitive college tennis. She is grateful for professors like Dr. George Williams, who sat down with her every Tuesday evening to help her prepare for the national Medical College Admissions Test, as he has for countless Judson students over his 50-year tenure.  When she entered the big pond (UAB School of Medicine), she did not shrink from competition with the strongest fish! Her honors included nomination to Alpha Omega Alpha—awarded to the most outstanding medical students—and a place in UAB's very competitive Ob-Gyn residency program. And from this very select group, Dr. Favor was chosen to receive the J. Marion Sims Award for Excellence in Obstetrics and Gynecology. In short, the bar was never so high that she backed away from the challenge it presented.
Although Dr. Favor's patients benefit from her remarkable professional credentials, when they describe her care, they usually mention other qualities—thoroughness, kindness, and respect. She loves her Birmingham practice for the advantages that a strong medical community and modern technology can offer patients. But the daughter of an oil and gas jobber remains close to her ties in Hayneville and the values she learned there. She understands the serious healthcare challenges that confront rural Alabamians.
Dr. Favor says of her talent in medicine, "It's a gift from God. I am very fortunate to have this role in the lives of families." Her commitment to give back has included work with Oasis Counselling for Women and Children and her alma mater, Judson College. She has participated in leadership at Judson, serving recently as Chair of its Board of Trustees.  Most of all, she enjoys mentoring and encouraging young women to make good choices for their health and for their futures. She is deeply grateful to those who supported and guided her, and she considers it a privilege to help light the path for the next generation.
As Dr. Favor's colleagues, we are honored to practice with her.